Released On 12th Aug 2019
Kitchen worktop options
With so many different materials, colours and style options available these days, deciding which type of kitchen worktop to choose can seem a little daunting at first. We're going to talk about each type of worktop material, explaining not only its advantages, but also what you may need to watch out for.


Laminate worktops are the most popular choice for kitchen worktops, as they are very affordable and durable. Our Egger Laminate worktops certainly fulfill these requirements, offering great quality over a wide range of the most up-to-date decors available in the market.
As with any laminate worktop, you will still need to use a cutting board, and although it is heat resistant (you can also choose the matching laminate splashback behind your hob), you will still need to use a trivet to protect the worktop from hot materials, like a saucepan or tray.
There are two different types of laminate worktop from Egger:
Contemporary - a post-formed worktop that comes in 600mm standard depth, and 670mm and 920mm breakfast bar depths
Premium - a square edged laminate in either 38mm or 25mm, 650mm standard depth, with a 920mm breakfast bar available.
How to join laminate worktops
Generally, the best way to join two laminate worktops is by using a mason's mitre, which will then be connected from underneath via recessed bolts, and sealed using Colorfil along the join (to seal the worktop cut and also blend in the join). Although you can mitre and butt-joint worktops, other methods can be used, depending on both the style of the worktop and the shape of the room.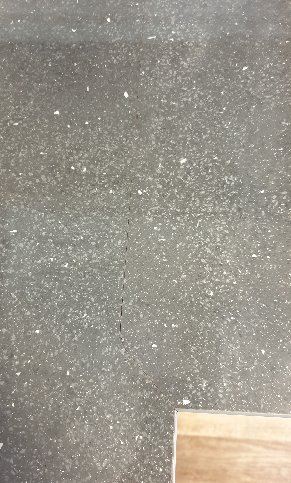 Above: A mason's mitre joint on a Premium (Square-Edged) Egger Laminate worktop.
Finishing exposed worktop ends
All our worktops come with additional edging to finish of any exposed ends, although again there are other ways to finish the end of the worktop, such as a finishing strip. Below we have shown different ways that an exposed worktop end can be covered.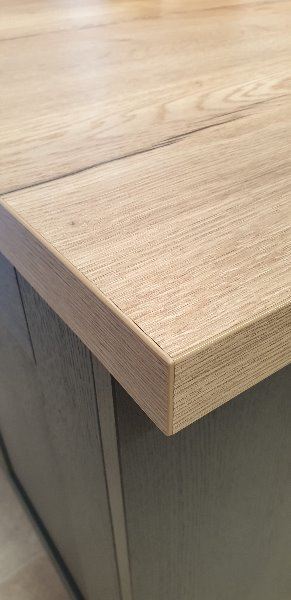 To view more of our laminate worktops (including both brochures) please click here. If you would like to use our worktop viewer and play around with different combinations of how doors and worktops, please click here.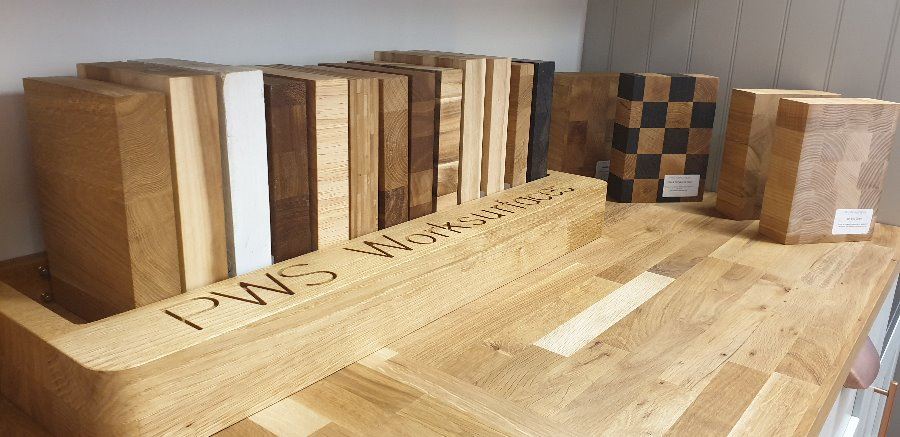 Stylish and practical
Timber worktops are a very popular choice, with their natural characteristics adding a style to a kitchen that doesn't go out of trend. As a natural product every piece of timber is unique - the grain, density and shade all add to the character of the worktop. As it ages the character will increase with the patina, allowing its natural colour to deepen. To top all of this, timber also has anti-bacterial qualities, helpful for food preparation areas in the kitchen.
Timber is a hard-wearing surface, so if you manage to dent, scratch or stain the top you can both fill in and sand back and polish out the worktop to put those imperfections right. One thing you will need to be aware of is that as timber is a natural product, it will need to be sealed at installation, and will also require regular maintenance.
Sealing your timber worktop
There are several ways to seal the worktop: Danish oil, Lacquer, Linseed oil, Wax (to name but a few). Our timber worktops come in blank (unfinished) pieces, so you will need to sand the worktop if you're after a perfectly smooth finish. Alternatively you can keep a non-smooth finish, adding to a more rustic feel.
Finishing the edges on your timber worktop is also all down to personal preference for the type of profile you'd like. The most common finishes are Pencil-round, rounded-edge (radius), and a chamfered edge. There are other, more intricate designs you can have on the edge to give the worktop much more character.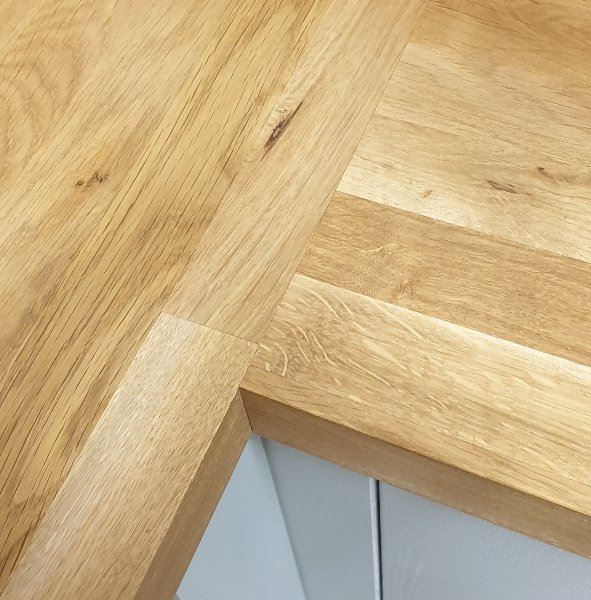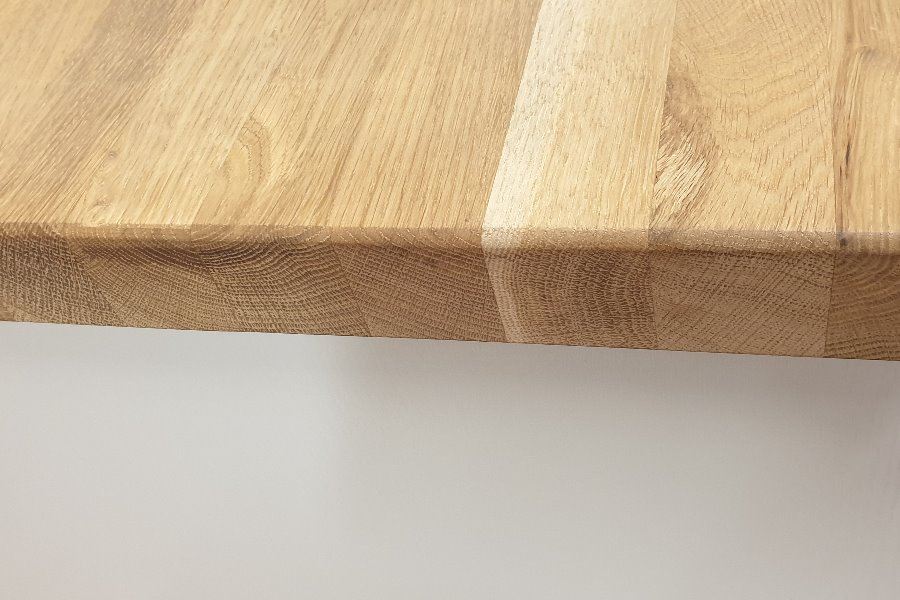 Generally, the most popular way to join a Timber worktop is using a butt joint, which will then be connecting bolted form underneath. The joint would then be sanded down to ensure a constant level from one piece of the worktop to the other. You can also both mitre and mason's mitre timber worktops too, very similar to a laminate worktop.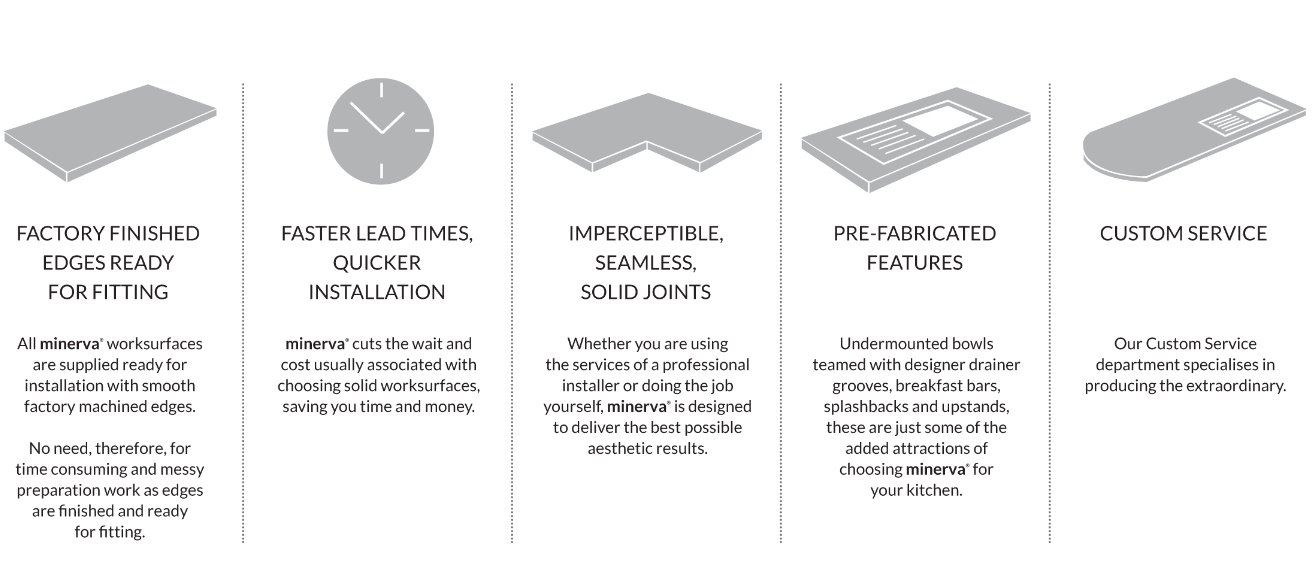 Solid Surface worktops are a refreshing alternative from Quartz, Marble and Granite. They're a non-porous acrylic blend, meaning they're not going to be stained or damaged from spilling a drink or food on them, unlike some other worktops. Another great benefit is that Solid Surface is supplied in large blank panels as they do not require any specialist tooling (since the same tooling used on a timber work surface can be used on a solid surface worktop). This also means they do not need to be jig-and-template fitted, saving both time and money!
Using a colour-match glue, you're able to create seamless joints between the different sections of solid surface worktop that are so good you'll think it was a single piece all along! This is another huge advantage over other worktops where the joints are visible. Generally, butt joints are used, with either a chamfer or pencil-round edge to finish. Although other joints and finishes can be used, these are the most popular.
We have two brands of Acrylic solid surface available; Pietra and Minerva. Our most popular of these is Minerva. With its wide range of colour options and also an extensive range of different size panels, it offers a wide varied of worktop options for your kitchen!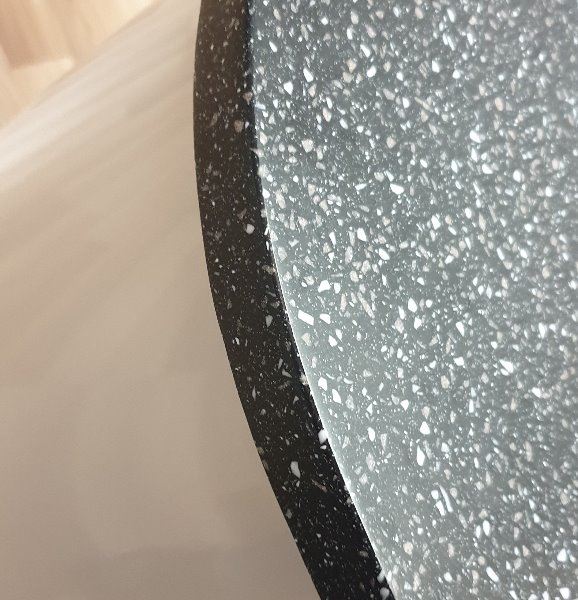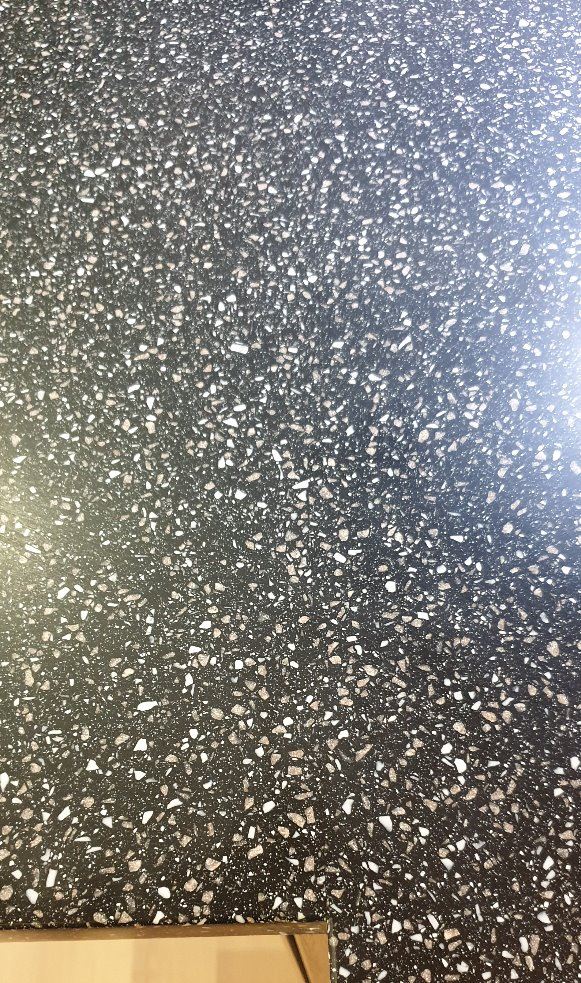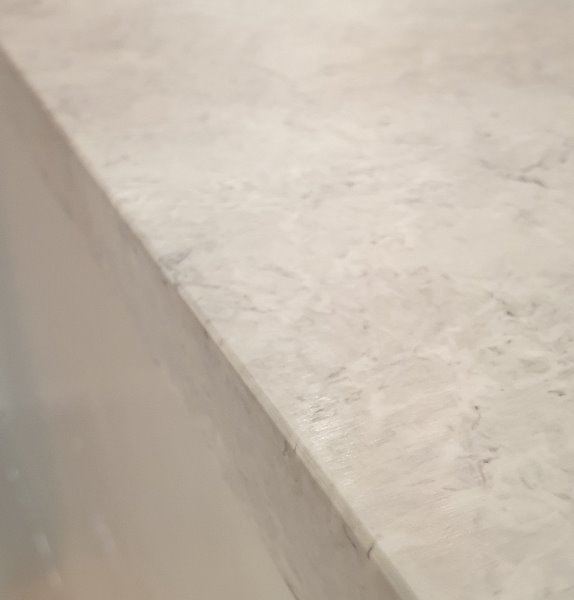 See more information about Solid Surface worktops, including our brochures for both Minerva and Pietra.
FAQ about Minerva Solid Surface
How long does a Minerva worktop usually last?
Minerva worktops are manufactured using the very latest techniques and carry a 10-year guarantee against manufacturing defects. However, they can quite easily last far longer following the advice and guidelines provided in the care and instruction manual.
Can I put a hot pan directly on a Minerva worktop?
Minerva worktops are highly heat resistant but we would recommend that extreme heat is avoided. To prevent heat damage, always use a trivet to protect your solid surface. Hot pans, as well as some heat generating appliances like frying pans, can damage the surface.
Are Minerva worktops heat resistant?
Not totally. While very high and direct heat will damage most solid surface products, solid surface materials do not burn or combust. In most cases the worktop can be repaired. It's much better to take precautions from the outset, use trivets etc to ensure your worktop retains its pristine finish. Alternatively, you can have hot rods installed into your worksurface, where you'll have a permanent safe place to put down hot items.
What is the best way to clean a Minerva worktop?
Soapy water is fine for daily cleaning, and the use of a mild abrasive such as Cif Cream on the surface will remove most minor marks that cannot be removed by soapy water. We will supply an installation and care manual with any Minerva quote we send out, and will include a Care Kit on the quote, including a daily cleaner and a rejuvenation cream that have been designed specifically to clean a solid surface worktop.
What about my choice of colour; will some colours last longer than others?
Light colours do show less wear than a darker colour shade. It really does boil down to personal preference though. One consideration is that should you scratch the surface it is more likely to show on a darker colour (although this can be repaired out).
Can a Minerva worktop really be repaired?
Yes, a Minerva worktop can be repaired, but we advise our customers to maintain their worktops as recommended though (we provide a care and installation manual for this reason with all quotes).
We can give you lots of useful advice to help to choose the right worktops. Get in touch!
Similar Posts
22nd Aug 2019
The innovative "push-to-open" system can be used on kitchen drawers and doors to give you the ultra-sleek, handleless kitchen you've dreamed of.
18th Apr 2019
How to measure up your own kitchen and create a floorplan to assist our design team at Phase 3 Kitchens