Released On 18th Apr 2019
HOW TO MEASSURE YOUR KITCHEN
Measuring your kitchen is a quick and simple process that can be easily done by anyone, without the need for a joiner or fitter. In this article, we'll show you how to measure up your kitchen so you have an accurate template to plan a new layout or fit new kitchen cabinets and appliances.
For this task, all you need is a pen, a piece of paper (or the welcome pack we have available in our showroom), and a measuring tape. A second pair of hands may come in useful!
THE KITCHEN
We're going to show you an example of how to measure the kitchen in the images below, with information about other things you may need to consider.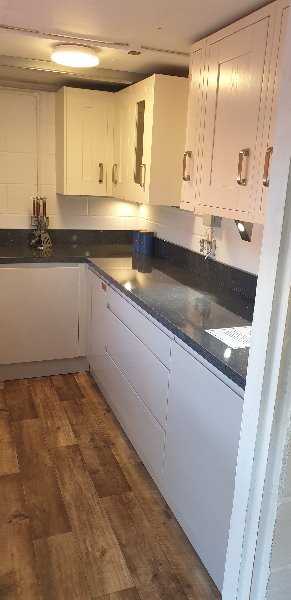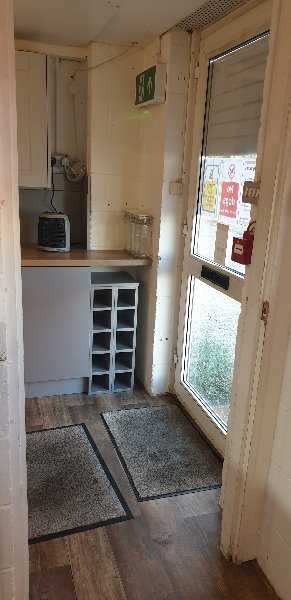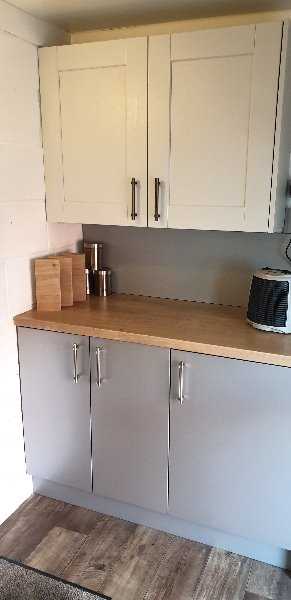 1. SKETCH A ROUGH LAYOUT
First, draw a rough sketch of the overall floor layout of your kitchen, as it will help when you write down the measurements later.
Include the position of any fixtures or appliances that will stay in the same place.
Make a note of door positions, and the direction in which the door opens, in or out.
Sketch in the position of any alcoves
In our example here, we've drawn out a rough layout of the room and then we'll add dimensions and details to the sketch as we go along. This sketch is going to be really helpful, but if you're planning to involve kitchen designers or fitters later on, it can also be helpful to take photos, so they can visualise your kitchen, too.
2. ACCURATELY MEASSURE DIMENSIONS
You don't need to be an artist for the first step of sketching a rough layout of your floor-plan, but when it comes to the actual measurements of your kitchen, accuracy is vital. Mistakes made now could prove costly later on.
One tip is to pick a starting point and methodically work your way around your kitchen in one direction, until the whole room is mapped. This will ensure that you don't miss anything out. It's worth doing this twice, just to be sure you didn't make any daft mistakes the first time!
a. MEASSURING DOOR OPENINGS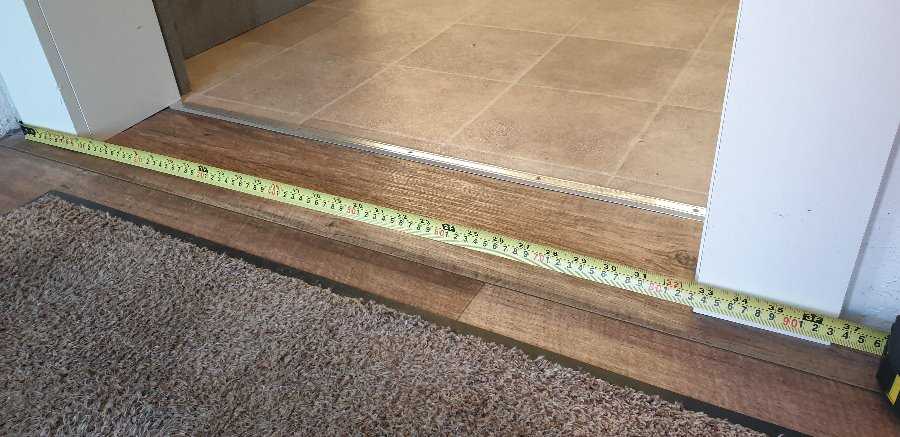 When measuring a door there are two different methods – for an external door we measure from wall to wall, as external doors are often set back from the rest of the wall. For an internal door, we measure from one side of the frame to the other. in our kitchen, the external door is 1005mm wide, and the internal door is 930mm wide.
b. MEASSURING WINDOWS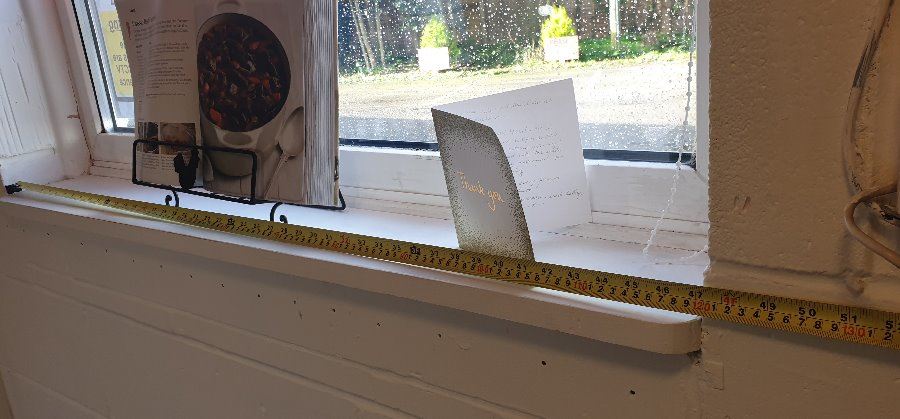 When measuring a window in your kitchen, like an external door, we measure from wall to wall. The only other thing it may be worth checking is the height of the window from the floor, so we can ensure that any unit or appliance we plan for that space will fit underneath, particularly if you're using an upstand. This particular window is 1200mm wide, and 1050mm from the floor.
c. MEASSURING CEILING HEIGHT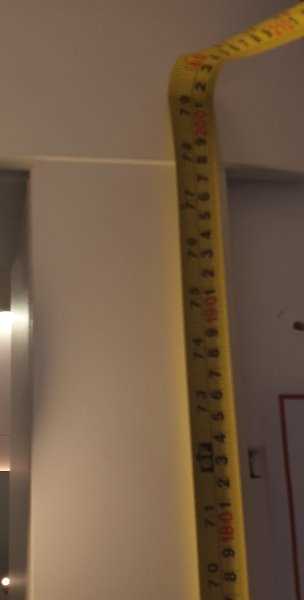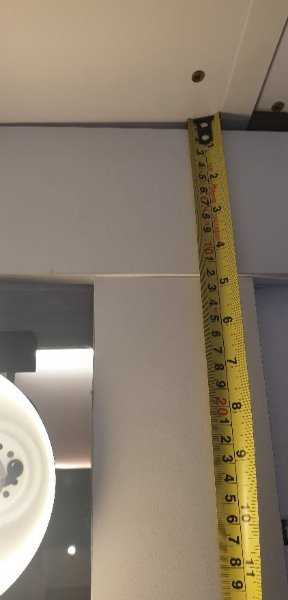 When measuring the ceiling height in your kitchen, a door frame is your friend! You can measure the height of the frame from the ground, and then the distance from the top of the frame to the ceiling. This is often a lot easier than trying to measure from ceiling to floor in one go! So in this particular room the door frame is 1980mm, with another 120mm to the ceiling, giving us a total of 2100mm (1980+120).
d. MEASSURING THE WALLS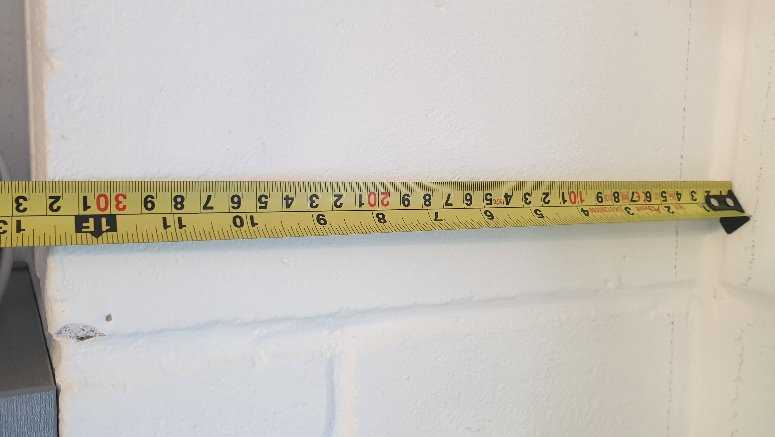 Measuring your kitchen walls is really simple. We've started with the corner that comes out into the room (by the external door). This comes out 255mm, and is 320mm wide.
If you find a wall is too long to measure easily, you can apply the same principle for measuring the ceiling height to the wall width, by splitting it up into easier sections against a fixed point to measure from either direction (such as an electrical outlet). On the larger wall in our kitchen, we've used this method to measure the wall in two sections (1300mm + 1470mm), giving us an overall measurement of 2740mm along this wall.
e. MEASSURING ANY OBSTRUCTIONS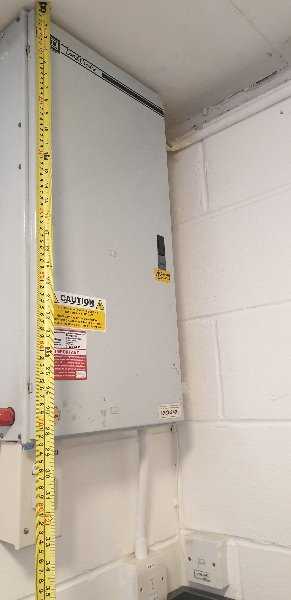 We've nearly finished taking all the dimensions we need for our sketch of the kitchen layout. What we need to consider now is any other permanent fixtures along the walls that would be helpful to highlight, such as where the plumbing currently is, the boiler, or any other obstructions that we don't want to be moved. Keep in mind:
windows
electrical fittings
cooker points
radiators
air vents
extractor fans.
In this particular kitchen we have an electrical box in the corner. We will need to measure how far this comes out, and how wide it is. In the case of a boiler, it's particularly important to measure it, to ensure we can house it within a unit. The electrical box in this kitchen is 850mm high (including the switch below it), and 480mm wide (allowing for the larger electrical plug coming from the side).
Also make a note of where your water stop-tap is, or electrical fuse box, if that's located in your kitchen.
3. YOUR COMPLETED PLAN WITH DIMENSIONS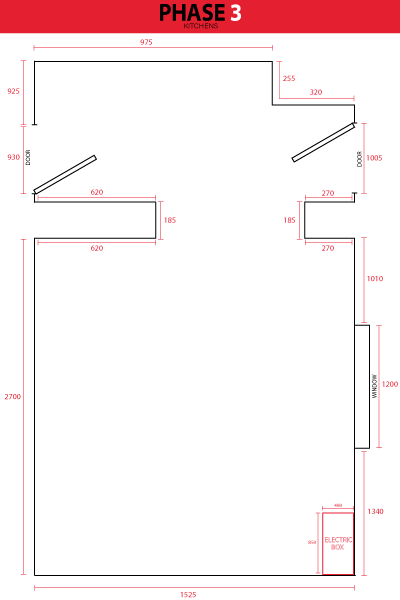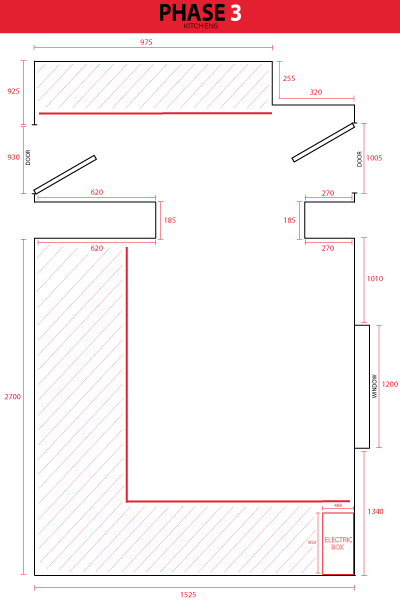 Now we've got our floorplan completed with all the measurements we need to consider, you can start to make plans for your new kitchen. If you're using a kitchen design company like Phase 3 Kitchens, show them your measured-up floor-plan at your first design meeting, together with those photos we suggested earlier. An accurately measured kitchen floor-plan will earn you the eternal friendship of your designer!
If you already have some ideas for the layout of your new kitchen, you can send over your carefully measured-up floor-plan for one of our design team to recreate within our software.
Contact our team today to find out more, and make your dream kitchen a reality.
Similar Posts
21st Jun 2019
As your local manufacturer, we can offer a tailor-made package for your requirements, without the price you'd usually associate with the word "Bespoke"!